The Edge Fitness Clubs now open for workouts in Detroit Metro Area with 3 more opening in the next few months

1st Edge Fitness Club Michigan location open with plans of 15 in the area
FARMINGTON HILLS, Mich. – October 13th, 2019 – The Edge Fitness Clubs, an affordable gym experience with state-of-the-art amenities, facilities, and staff, has officially opened their first location in the Detroit Metropolitan Area in Farmington Hills, Michigan. Bordering Novi, Livonia and Southfield, The Edge Fitness Clubs is in a convenient location right off Grand River for all of these communities.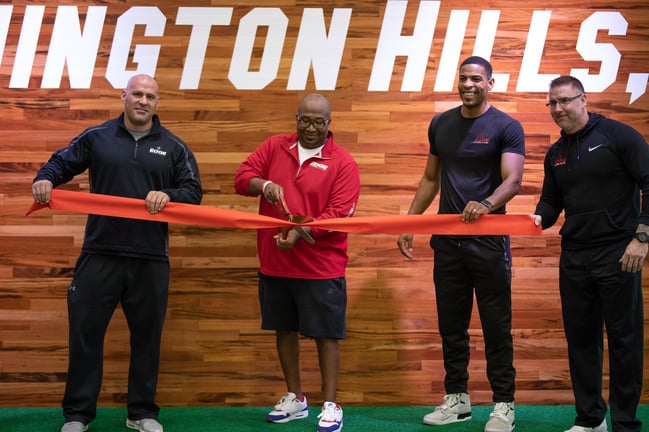 Farmington Hills, MI is the first of four locations opening in 2019 for The Edge Fitness Clubs. With over thirty years of fitness experience, the company is east coast based but is newly expanding to the Midwest and rapidly opening up new locations in 2019 and 2020. The Farmington Hills Edge Fitness Club is located on Grand River in the plaza with Target and Riviera Cinema and now open for workouts.
Rochester Hills will be the second location opening in the area on Saturday, November 9th on South Rochester Road in the new development next to Marshall's and Dicks Sporting Goods. Following Rochester Hills opening, Westland will open in December on Warren Road next to the Dollar Tree and Dave's Famous BBQ. Founding member discounts are available now before these clubs open and limited spots are available when you join online or in the preview centers.
Farmington Hills, MI location opened on September 28th, 2019.
"The response we have received for our first location in Farmington Hills since the doors have opened has been incredible. We're excited to be serving this community as well as our neighboring towns," said Frank Dennis, Michigan Area Director at The Edge Fitness Clubs. "Rochester Hills, Westland and Sterling Heights get ready for opening day and thank you for welcoming us with open arms."
Sterling Heights will be club number four opening January 2020 on 18 mile and Dequindre. Preview Center for Sterling Heights will be opening October 26th More new club announcements coming for 2020 openings.
The Edge Fitness Clubs has amassed more than 190,000 members, becoming a household name where members can get real fitness results. The Edge's mission is to offer extraordinary fitness facilities, innovative programming and an energetic, friendly staff to ensure members enjoy their exercise experiences – and see results – day after day, at an affordable price. Memberships are designed to meet the needs of each individual member and their fitness journey. For more information on all Michigan Edge Fitness Club locations please visit: www.TheEdgeDetroit.com
Media Contact
The Edge Fitness Clubs
Laura Altieri
LAltieri@theedgefitnessclubs.com
203-843-6116
# # #